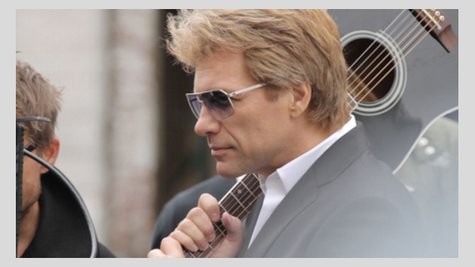 Jon Bon Jovi was supposed to do a European promotional tour to promote his band's upcoming album, but in the wake of Hurricane Sandy, he's chartered a private jet and returned home to his family. Jon told the British paper the Daily Mail , "I really need to get back home...I need to be with my people. Thankfully my family are safe."
In addition to worrying about his family, the singer is, of course, deeply affected by the destruction the hurricane caused in his home state of New Jersey. He tells the Daily Mail, "There is no power, water, the devastation is off the charts. The president is in my hometown in New Jersey because of the damage. It's like Armageddon. Where my children surf, 80 houses burnt down."
Jon says he wants to help rebuild through his charity, the Jon Bon Jovi Soul Foundation, and one way he can help is through the foundation's charity restaurant, the Soul Kitchen. "A lot of people rely on [it] for their food. I need to find a generator and get that working," he tells the paper. "What can I do? I have to get there and find out. We take care of each other, that's what we do in our town."
Copyright 2012 ABC News Radio