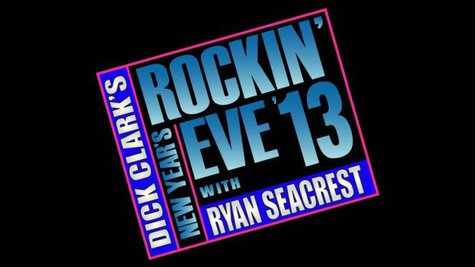 Tonight, as the world looks to New York City's Times Square, the ball drops and we say goodbye to 2012, something will be missing: Dick Clark . The TV icon died this past April, but his creation, ABC's Dick Clark's New Year's Rockin' Eve , goes on.
ABC will remember Clark throughout the evening, starting at 8 p.m. ET with a two-hour special that will focus on the many highlights of his career. New Year's Rockin' Eve Celebrates Dick Clark will include a bevy of archival performance clips from American Bandstand , the legendary pop-music showcase the music luminary hosted and produced for decades.
Among the many stars featured on the special will be The Beach Boys , Pat Benatar , Blondie , Billy Idol , Neil Diamond , Michael Jackson , John Mellencamp and Stevie Wonder . The program will be co-hosted by Black Eyed Peas singer Fergie and comic actress Jenny McCarthy , who also will help Dick Clark's New Year's Rockin' Eve host Ryan Seacrest ring in 2013.
The primetime segment of the latest edition of Dick Clark's New Year's Rockin' Eve then will officially kick off at 10 p.m. ET. Seacrest, who's been co-hosting the show since 2005, says it will definitely be a challenge for him to do the honors for the first time without Clark, especially since he's never actually counted down to the New Year alone.
"I haven't really thought about what it's going to be like in that moment because I've never done it myself," he tells ABC News Radio. "I've never done the actual countdown...It's always, you know...toss it to 'The Man' to do it." He says counting down to the ball drop himself for the first time will be "surreal" and "emotional," adding, "Even though we'll be celebrating, in my mind, I know that, personally, I miss my friend being here."
Seacrest adds, "[Dick] started this 40 years ago with just one camera and one light and one microphone, and now it's turned into a big celebration, and so we'll look back, we'll reflect, and then we'll celebrate the new year."
As for what Clark would think of this year's show, Seacrest tells ABC News Radio, "I know he will be watching us from somewhere, making sure that we get it right. You can be certain about that." The Dick Clark's New Year's Rockin' Eve broadcast is scheduled to air 'til just after 2 a.m. ET.
Copyright 2012 ABC News Radio