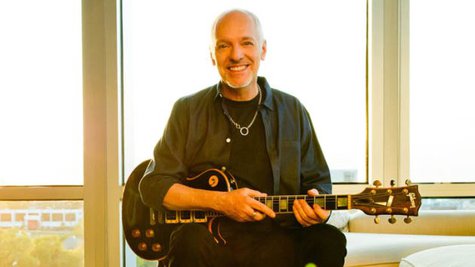 For people with extended families, deciding where to spend the holidays can sometimes be complicated, since various loved ones may arrange their get-togethers on the same day in locations far from each other. Peter Frampton , who's been married multiple times, admits that deciding what to do for Christmas can be particularly tricky for him.
"I have family all over the country, so I don't know where I'm gonna end up yet, 'cause otherwise it smells of favoritism," the veteran guitar whiz recently explained to ABC News Radio. "I have to leave it to the last moment, I think, and see who's not doing too much, and then I'll go and join them."
Meanwhile, Frampton has revealed some new information about his recently announced plan to mount a 2013 tour that will see various well-known guitarists joining him on stage. The 62-year-old rocker tells Billboard that the trek, dubbed Peter Frampton's Guitar Circus, will take place in the summer and that blues legend B.B. King is the first guest artist to sign on for the outing.
"I'm so honored," says Peter. "I can't wait to speak to him and thank him," Frampton told Billboard .
Frampton reports that King will spend three weeks on the tour during August. As for what the songs he expects to play at the shows, Peter says that hasn't been decided on yet, although he plans to mix his classic songs with new material and instrumental compositions from his Grammy-winning 2006 album, Fingerprints . He also notes that sets likely will be adjusted to fit the guest guitarists' styles.
Copyright 2012 ABC News Radio