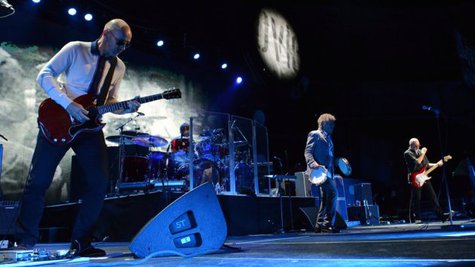 Last week, The Who wrapped up the first leg of its "Quadrophenia and More" Tour . The North American trek wound down with a December 9 concert in Uncasville, Connecticut, a few days before the British rock legends participated in the star-studded 12.12.12 -- The Concert for Sandy Relief . Once 2013 begins, The Who will return for a second leg that kicks off January 28 in Anaheim, California.
The band's longtime touring guitarist Simon Townshend tells ABC News Radio that he's been having a great time on the outing, and says he prefers it to the last trek during which The Who's performed its 1973 rock opera, in 1996 and '97.
" Quadrophenia in the '90s…was with your narrator and we had guest stars, and it wasn't really The Who, to be honest," explains Simon, who's the younger brother of the group's founding lead guitarist and songwriter, Pete Townshend . "It was more of a production. I think this tour is much more The Who."
Simon says among the aspects of this trek that he's enjoying are the special video tributes to late Who drummer Keith Moon and bassist John Entwistle that have been incorporated into the shows. Each concert includes audio and video of Moon performing "Bell Boy," the one song the madcap musician sang on Quadrophenia , as well as footage of Entwistle playing a jaw-dropping solo on "5:15."
"I thought that was such genius," declares Townshend. "It was [singer] Roger [ Daltrey ]'s idea. He kinda did the direction for it, and it's just really clever. It works, and I think the audience love those moments."
Meanwhile, Simon notes that he's happy that his role in the band has increased on this trek; for example, he's gotten to move closer to the front of the stage and he sings lead vocals on the songs "Dirty Jobs."
"I've been given a promotion. I've got stripes on my jacket and…it's good," he quips, adding, "I quite enjoy being suddenly under the spotlight…and that's something I didn't know I had in me until recently."
In addition to his work with The Who, Townshend also is an accomplished solo artist. He recently released a brand-new studio album titled Looking Out Looking In , and has been playing a series of club shows in support of the recording.
He tells ABC News Radio that he felt "quite gifted with these tracks" because, "whereas other albums I've done I've sort of had to sit down and pen songs, these kind of just came to me."
Townshend says one of his favorite tunes on Looking Out Looking In is "She Asked Me."
"It's got a lyrical twist on it that's very cool," he explains. "The secret song that no one can know about, 'cause it's about your lover."
The album also features a tune titled "Electric Friend," which is an homage to his electric guitar as well as to the generosity of Pearl Jam frontman Eddie Vedder .
"I was in L.A. and he was in Washington, and he had a show [with Pearl Jam] and I texted him to say I had 10 friends who want to go," Simon explains. "And he, within an hour, had them backstage and walking 'round and meeting the band and got 'em all drinks. And I thought that was a really cool thing."

The second leg of The Who's "Quadrophenia and More" Tour is mapped out through a February 26 concert in Providence, Rhode Island. Simon also has a handful of North American solo dates lined up, mostly in March. That same month, he'll serve as the opening act for Heart when that group hits the road for a Canadian trek. Visit SimonTownshend.com to check out his complete itinerary.
Copyright 2012 ABC News Radio