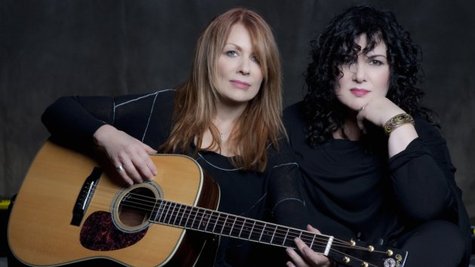 On Tuesday, the artists who will be welcomed into the Rock and Roll Hall of Fame in 2013 were announced at a press conference held in Los Angeles. Among next year's inductees is Heart , who was finally recognized by the Rock Hall after being eligible for more than a decade. The group's leaders, Ann and Nancy Wilson , were on hand to celebrate the honor.
Commenting about the band's impending induction, frontwoman Ann said, "It just goes to show you that just when you think you know the shape of rock 'n' roll, it changes shape on you…We weren't expecting to be standing here."
The singer added that the Rock Hall honor had become "a running joke" between her and her sibling band mate, Nancy, who noted that they thought Heart would be inducted "when pigs fly."
Ann added that to finally be acknowledged was "more than thrilling."
Speaking with ABC News Radio at the event, the Wilson sisters mused about what celebrity they'd like to induct Heart at the ceremony, which takes place on April 18 at Los Angeles' Nokia Theatre L.A. Live.
Nancy quipped, "There's a committee, a team of experts already on this job. We've been throwing names at them but everybody says, 'Shh.'"
Added Ann, "No one wants to discuss it. It's a big secret…But, if it were me, I'd like Robert Plant to induct us."
As for what songs the band might play at the big event, Nancy said, "I figure something like 'Barracuda' might be a natural, 'cause it's definitely a rock song."
Ann, meanwhile, suggested that "'Crazy on You' would be good too."
An HBO special featuring highlights from the 2013 Rock Hall induction ceremony will premiere on May 18.
Copyright 2012 ABC News Radio