« back to Movies
The Hunt (Jagten)
Release Date: None
Genres: Drama
Cast: Mads Mikkelsen, Susse Wold, Thomas Bo Larsen, Lars Ranthe, Anne Louise Hassing, Bjarne Henriksen
Directors: Thomas Vinterberg
Official Site: http://www.magpictures.com/thehunt/
Distributor: Magnolia Pictures
This is a disturbing depiction of how a lie becomes the truth when gossip, doubt and malice are allowed to flourish and ignite a witch-hunt that soon threatens to destroy an innocent man's life. Lucas is a highly-regarded school teacher who has been forced to start over having overcome a tough divorce. Just as things are starting to go his way, his life is shattered. An untruthful remark throws the small community into a collective state of hysteria. The lie is spreading and Lucas is forced to fight a lonely fight for his life and dignity.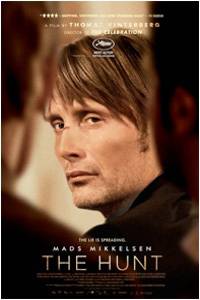 Show Times / Buy Tickets
There are no current showings for The Hunt (Jagten) in this area.