« back to Movies
Ballet's Greatest Hits - Youth America Grand Prix Gala
Release Date: None
Genres: Program
Cast: Marcelo Gomes, Veronika Part, Maria Kochetkova, Matthew Golding, Ashley Bouder
Directors: Youth America Grand Prix
Distributor: Emerging Pictures
Youth America Grand Prix's Ballet's Greatest Hits features a special Gala performance starring some of the world's greatest and most exciting ballet stars. Principal dancers such as Marcelo Gomes, Veronika Part and Hee Seo from American Ballet Theatre, Maria Kochetkova of San Francisco Ballet, New York City Ballet favorites Ashley Bouder and Daniel Ulbricht, and Matthew Golding of Dutch National Ballet perform iconic roles from the classical repertoire including Swan Lake, Giselle, Flames of Paris and La Bayadere. Audiences will gain special insight from interviews with the artists and choreographers. A unique dialogue between ballet's history and its present, "Ballet's Greatest Hits" is a star-studded Gala performance not to miss!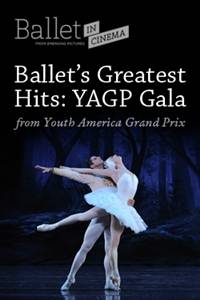 Show Times / Buy Tickets
There are no current showings for Ballet's Greatest Hits - Youth America Grand Prix Gala in this area.