« back to Movies
Madagascar 3: Europe's Most Wanted
Release Date: June 8, 2012
Genres: Animation
Cast: Ben Stiller, Chris Rock, David Schwimmer, Jada Pinkett Smith, Sacha Baron Cohen, Cedric The Entertainer, Andy Richter, Frances McDormand, Bryan Cranston, Martin Short
Directors: Eric Darnell, Conrad Vernon
Official Site: http://www.madagascarmovie.com/
Distributor: Paramount/Dreamworks
Alex the Lion, Marty the Zebra, Gloria the Hippo, and Melman the Giraffe are still fighting to get home to their beloved Big Apple and of course, King Julien, Maurice and the Penguins are all along for the comedic adventure. Their journey takes them through Europe where they find the perfect cover: a traveling circus, which they reinvent - Madagascar style.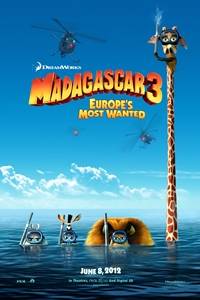 Show Times / Buy Tickets
There are no current showings for Madagascar 3: Europe's Most Wanted in this area.