THURSDAY APRIL 19, 2012 | ABOUT 11 HOURS AGO | POSTED IN: R.I.P. | EDIT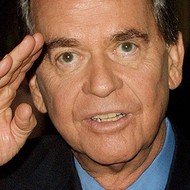 The star of "America's Bandstand," "New Year's Rockin' Eve" and the producer of many TV projects from the Golden Globes to the Academy of Country Music Awards suffered a massive heart attack this morning. His death comes eight years after suffering a stroke. Clark, 82, leaves behind three children.
• Watch Clark's final New Year's Eve countdown
• Watch his first "countdown" to 1973
• Watch 29-year-old Clark's "This is Your Life" episode from 1959,
• See the Ryan Seacrest's tribute to "American Bandstand" from last year
• See Clark's life in pictures,
• Clark on TV Guide's cover in 1960,
• Read the NY Times' full obit
• Watch Clark's TV Legends interview.
• Reactions from Ryan Seacrest, Clark's "The Other Half" co-star Mario Lopez and many other celebrities.